Firm grip on slippery surfaces: thanks to adaptive all-wheel drive and torque vectoring
As bright as day: IntelliLux LED® and full-LED headlights
Clear visibility from the start: Stationary heating and heated windscreen
Cosy warmth: heating for steering wheel as well as front and rear seats
The nights are getting longer, colder and frosty - high time to adapt to wintery temperatures and road conditions. With their numerous safety and comfort features, Opel cars help make winter-driving safer and more relaxed. With adaptive all-wheel drive (AWD), IntelliLux LED® headlights and steering wheel heating, Opel cars are ready for the worst that winter can throw at them.
Get a grip – with the right tyres and intelligent traction control
Winter tyres ensure better road holding and shorter braking distances in snow. A tread depth of four to five millimetres is vital and the tyres should not have more than six winters behind them.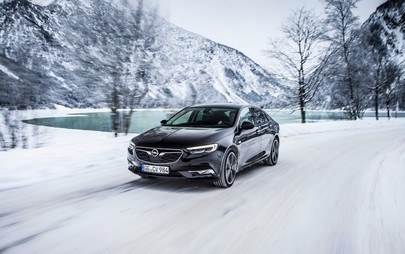 On slippery surfaces the right traction is just as important as the right tyres. Depending on the model, Opel offers intelligent traction control systems from IntelliGrip to adaptive all-wheel drive with torque vectoring. With IntelliGrip on the new Opel Grandland X, the driver can choose from five modes – including mud and snow. IntelliGrip adapts torque distribution to the front wheels, allows slip when necessary and adjusts the accelerator pedal control map. When combined with an automatic transmission, IntelliGrip optimises the shift points to the prevailing driving situation, further increasing safety and driving comfort.
Alternatively, customers can choose all-wheel drive in order to keep a sure-footing on slippery surfaces. Take the best-selling Opel Mokka X SUV, for example, to get a firm grip on mud, snow and ice: the adaptive AWD system distributes the torque as necessary in split seconds, from economical 100 percent front-wheel drive to 50:50 between the front and rear axles, thus ensuring maximum traction. All-wheel drive is briefly available after every engine-start, as soon as the driver presses the clutch pedal, preventing wheel-spin at launch. Once underway, all the torque goes to the front wheels, unless the road or the traction conditions require a different distribution.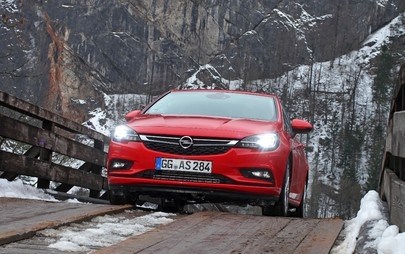 For the highest levels of performance and efficiency, the new Opel Insignia uses an adaptive all-wheel drive system with torque vectoring and a rear drive module that has a twin clutch system without differential. The Insignia's all-wheel drive system can apply torque to one or both of the rear wheels independently, enabling torque vectoring capability across the car's full performance range. When cornering, higher torque is sent to the outside rear wheel, inducing rotation around the vertical axis (yaw) – the Insignia turns in with more precision, responding more spontaneously to inputs from the driver. This intelligent use of torque distribution – also known as "yaw damping" – results in neutral vehicle behaviour, making the car more stable and steerable for the driver.
Turn night into day with IntelliLux LED® headlights
Wet, snowy and icy conditions are accompanied by dark days during the winter months. However, Opel has excellent solutions: adaptive full-LED headlights (e.g. Mokka X, Grandland X) or IntelliLux LED® matrix headlights, as on the Astra and new Insignia. The adaptive LED matrix light (32 LED elements, 16 each side in the latest generation on the new Insignia) adapts to the prevailing situation and enables driving with full beam – without glaring other road users. It also enables people or animals near the road to be seen earlier than with conventional low beam.
Take off in comfort – with de-icing and heating options from Opel
Opel drivers need not worry about planning extra time to get rid of ice or snow before taking off with helpful de-icing features such as heated exterior mirrors and heated windscreens, as on the Opel Insignia and Grandland X. The windshield is defrosted silently and comfortably at the push of a button, by a fine wire heating element. The heated windshield also prevents fogging in humid conditions, further improving visibility and safety.
Opel vehicles also have additional features for making the interior feel cosy. Most of the cars, for example, offer a heated steering wheel. It takes less than a minute for the driver to feel the warmth in his hands.
When it comes to wellness, the heated, multi-adjustable and ergonomically certified AGR seats certified by the back specialists from Aktion Gesunder Rücken e.V. are a must have. The ultra-modern seats enable everyone to find the ideal sitting position thanks to the numerous adjustment functions. The optional Premium AGR seats ensure a relaxing trip, thanks to their unique combination of side bolster adjustment, massage function and heating in winter or cooling ventilation in summer. As an additional luxury, passengers on the heated outer rear seats of the Opel Astra and Insignia also benefit from extra warmth.
Drivers and passengers can thus simply step into their Opel without their usual winter layers. Thanks to the variety of heating options they can feel safe and comfortable, from the moment they start their journey.